Dell Motherboard Service
---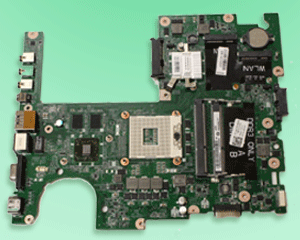 We offer these Dell Laptop Motherboard services at competitive prices and quality service as compared to other service providers in the market.
we are capable to do component level services by checking all Dell motherboard components such as ICs, Connectors, BGA ICs, & Cmos Battery Problem. our laptop service technicians can solve all types of model in dell motherboard probelm.
Whether your Laptop mother board requires complex chip level repairing or component level repairing, our team of highly trained & experienced engineers will do it all for you. We are amongst the few ones to provide
Damaged or missing BGA pads are replaced by following an IPC recommended procedure BGA Pad Repair Procedure. This procedure uses specially fabricated adhesive backed BGA pads that are thermally bonded to the board surface.
Repair of damaged solder mask at BGA sites
Rework a BGA site to change the conductor routing
BGA Component Removal & Replacement
X-ray Services for BGA Components